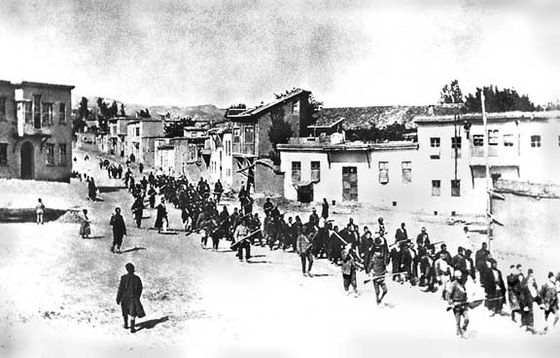 President Biden has made history by explicitly describing the 1915 massacre of Armenians by Ottoman Turks as a genocide. Biden issued the statement Saturday to mark Armenian Remembrance Day. He wrote, quote, "Over the decades Armenian immigrants have enriched the United States in countless ways, but they have never forgotten the tragic history." He said, "We honor their story. We see that pain. We affirm the history. We do this not to cast blame but to ensure that what happened is never repeated." He went on to say, "The American people honor all those Armenians who perished in the genocide that began 106 years ago today," unquote.
On April 24th, 1915, the Ottoman Empire began a systematic, premeditated campaign, targeted the Armenian people, an unarmed Christian minority living under Turkish rule. More than a million Armenians were exterminated through direct killing, starvation, torture and forced death marches. Another million fled into permanent exile.
Biden is just the second U.S. president, after Ronald Reagan, to describe the mass killings as "genocide." Turkey decried Biden's decision and summoned the U.S. ambassador in Ankara in protest. For decades, Turkey has lobbied lawmakers in Washington to avoid calling the massacres genocide. This is a spokesperson for Turkish President Recep Tayyip Erdogan.
IBRAHIM KALIN: First of all, the statement by the U.S. president is very unfortunate, unfair. We completely reject it, condemn it. It is not supported by historical facts. It has no legal basis. And politically speaking, it's an irresponsible, unconstructive statement.
AMY GOODMAN: But Armenians have welcomed President Biden's statement recognizing the genocide.
HAKOB TER-KHACHATRYAN: We are thankful that Joe Biden, in his first year of the presidency, has already acknowledged the genocide, used the correct term, shared our sorrow and also made an appeal to the world that such hate crimes, such crimes against humanity shouldn't be forgotten.
See the full article and video HERE