CODEPINK & ADDICTED To WAR: Present DAVID SWANSON
Saturday, January 18th
Event Summary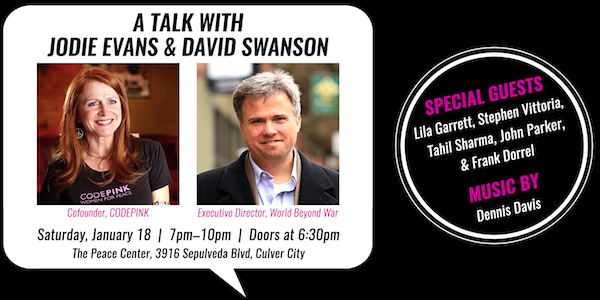 Speaking engagement with David Swanson, Lila Garret, Tahil Sharma, Jodie Evans, Frank Dorrel and Dennis Davis
Price: Donation
A speaking engagement with David Swanson an author, activist, journalist & radio host. He is the executive director of World BEYOND War and campaign coordinator. He will be joined by Lila Garret host of KPFK's "Connect the Dots" and many more. For More Information Contact Frank Dorrel at fdorrel@addictedtowar.com or: 310-838-8131
David Swanson
Is an author, activist, journalist & radio host. He is executive director of World BEYOND War and campaign coordinator for: www.RootsAction.org. Swanson's books include: War Is A Lie and When The World Outlawed War, as well as Curing Exceptionalism, War Is Never Just and War No More: The Case for Abolition. He is co-author of: A Global Security System: An Alternative to War. He blogs at: DavidSwanson.org and WarIsACrime.org. He hosts Talk Nation Radio. He is a 2015, 2016, 2017, 2018, 2019 Nobel Peace Prize Nominee. Swanson was awarded the 2018 Peace Prize by the U.S. Peace Memorial Foundation. David holds a Master's degree in Philosophy from the University of Virginia and has long lived and worked in Charlottesville, Virginia. www.worldbeyondwar.com
Lila Garrett
Is an Emmy Award winning television screenwriter who has a passion for politics. She is the popular radio host of: "CONNECT THE DOTS", heard every Monday morning at 7:00 AM on KPFK 90.7 FM Radio in Los Angeles. She is also a regular contributor to The LA Progressive. David Swanson is a regular guest on her program.
www.kpfk.org/on-air/connect-the-dots
Tahil Sharma
Is an interfaith activist based in Los Angeles, who was born to a Hindu father and a Sikh mother. Following the Oak Creek, WI shooting of a Sikh temple in 2012, Tahil became involved in efforts for interfaith literacy and social justice and has been doing this work professionally for the past 6 years. Tahil is the Faith Outreach Manager for Brave New Films, a social justice documentary organization based in Los Angeles that empowers communities and teaches civic participation through new media, facilitation and strategies for action. Tahil also serves as one of three Interfaith Ministers in Residence for the Episcopal Diocese of Los Angeles & as the Los Angeles Coordinator for Sadhana: A Coalition of Progressive Hindus. Tahil also serves various organizations in different capacities to educate, engage and serve various communities that promote interfaith cooperation and ethical pluralism and social and productive norms in society. www.bravenewfilms.org
Jodie Evans
Is the co-founder of CODEPINK, which is a women-led grassroots organization working to end U.S. wars and militarism, support peace and human rights initiatives and redirect our tax dollars into healthcare, education, green jobs and other life-affirming programs. www.codepink.org
Frank Dorrel
Publishes & distributes: "ADDICTED To WAR: Why The U.S. Can't Kick Militarism" - Written and illustrated by Joel Andreas. It is one of the most popular anti-war books in the United States. In 2000, Frank put together his anti-war film compilation titled: "What I've Learned About U.S. Foreign Policy: The War Against The Third World". He was the Associate Producer for the film: "PAYING THE PRICE FOR PEACE: The Story of S. Brian Willson". And he administers his local ATW-NEWS Email List. www.addictedtowar.com
Dennis Davis
Is a singer-songwriter and filmmaker. He has performed at clubs & events throughout Los Angeles & released a CD of his music: "ODE TO PEACE." His song: "REGRET TO INFORM" plays under the end credits of Barbara Trent's documentary: "SOLDIERS SPEAK OUT." Frank Dorrel says his song "AFRICAN COUNRY" should be the Peace Anthem of The World. As co-owner of Chris/Den Productions, with a wide-range of video clients, he's filmed many award-winning theatrical productions including Julie Harris's "Belle of Amherst." Dennis won an AFI/SONY "Visions of America" award for the music video "Jesús." He's the DP, editor & composer for the documentary feature: "WOMEN AT WAR: FORGOTTEN VETERANS of DESERT STORM".
His wife Christie is the director and writer of this film.
www.womenatwarmovie.com/filmmakers.asp
Venue
The Peace Center
The Peace Center 3916 Sepulveda
Culver City
90230
Dates
The event runs from 6:30pm to 9:00pm on the following dates.
Select a date to add this event to your calendar app.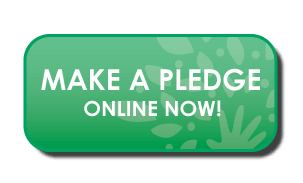 KPFK is a progressive media outlet challenging corporate media perspectives and providing a voice to voiceless communities. Help keep KPFK a strong and independent source of music, arts, news and information.
Los Angeles Area Forecast

Sunny intervals

High: 72°F | Low: 50°F