Pledge Online


KPFK receives the majority of its operating funds from individual members like you. The support of our members helps us produce original content like:

Progressive news coverage rooted in gender and racial justice on Rising Up with Sonali, the discussions on the inter-relationship between art and politics on Sojourner Truth With Margaret Prescod, the educational approach to providing information in an era of "fake news" Ian Masters offers on Background Briefing and Something's Happening with Roy of Hollywood

Your support also helps KPFK provide dollars to support our volunteer producers that produce programs like the Connect the Dots, Aware Show, Adventures in Stereo, the Bradcast, The Global Village, and many others.

Your donation to KPFK provides the essential resources it takes to deliver these programs today, tomorrow, and all through the year. All donations without a gift have a greater impact in funding our operations. And any donation of $25 or more makes you a member of KPFK for the year, allowing you to participate in local station board elections.

If you have a question about KPFK Membership, please contact the KPFK Membership Department here.
Make a One Time Gift or Become a Sustaining Member
You can also donate by calling (818)985-2711
Text 'KPFK' to 41444 on your cellphone or
Mail a check to KPFK – Pacifica Foundation PO Box 748419 Los Angeles CA 90074-8419
The Lewis Hill Legacy Circle honors the philanthropic leadership and vision of individuals who have provided for the future of public broadcasting by making a Legacy gift. Legacy giving benefits KPFK, you, and the cause of social and economic justice.
As a member of the Legacy Circle you will get: VIP Invitations to special receptions, screenings, and events, VIP tours of KPFK studios, including meeting a host of a KPFK program (when possible) sit in on the live broadcast of a program and a recognition of donors gift in annual KPFK publications and on the Donor Tree/Wall in the lobby.
Interested in donating your vehicle? Schedule a pickup that's convenient for you.
KPFK Logo Items and Gift Items
Chek out our online store for KPFK swag, Exclusive Pacifica Radio Archives Recordings, and much more.
Employee matching gift programs are giving programs in which your employer may match your donations. It's an easy way to double your contribution to us!
Using appreciated stock or mutual funds is a tax-wise way to fund your gift to KPFK. Gifts of appreciated securities held longer than one year are exempt from capital gains taxes and for outright gifts entitle the donor to a tax deduction equal to the fair market value of the securities at the time of transfer.
If you are 70½ or older, you can make a tax-free gift directly to KPFK from your Individual Retirement Account (IRA) now and for years to come. It's a smart way to enjoy tax savings and support KPFK.
---
KPFK Legacy Giving
You Can Create Your Own Legacy!
Making a difference is important to you. Charitable giving is an important part of your life and yrcore values. Like many people, you'd like to know that the causes and organizations you care about today will continue to thrive in the future. The good news is you don't have to be Andrew Carnegie or Bill Gates to start a meaningful philanthropic legacy. In addition to supporting the work of KPFK through cash donations, consider making a planned gift.
WHAT IS PLANNED GIVING?
Legacy giving benefits KPFK, you, and the cause of social and economic justice. Have you ever made a vehicle donation to benefit your favorite charity? If you have, you know that transferring assets is easy and it can vide tax benefits as well. Simply put, "planned giving" is the transfer of assets to a designated nonprofit organization during a lifetime or as part of an estate plan.
IT'S EASY
Planned giving is easy to do and you don't have to be wealthy to do it. Whether it is naming your favorite charity in your will or trust for a modest amount, or a gift of house and property, there is an easy option that is right for you.
IT CAN INVOLVE ASSETS YOU MIGHT NEVER THINK OF
A life insurance policy. Real estate. Stocks. Business holdings. A checking or savings account. These are all assets that can be leveraged in planned gifts.
IT CAN PROVIDE GENEROUS TAX BENIFITS
Depending upon the type of gift, short-term and/or long-term tax benefits may apply. Donors at a variety of income levels can benefit.
Anyone considering a planned gift should consult a tax and/or legal advisors to determine the right course of actions to making a gift. KPFK's tax Identification Number: 94-1347046. For more information, and for obtaining information necessary to name KPFK Pacifica Radio as part of your bequest, please contact us at 818-985-2711 or email gm@kpfk.org
Click to download the the information document and details- KPFK Legacy Giving Form
---
Want to Recycle Your Car?


You can donate any used vehicle to help support KPFK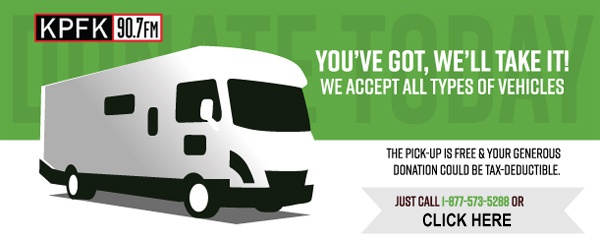 Click here to donate your car to KPFK now or Click Here For Vehicle Donation Details
If you prefer to contact us by phone, please call 877-KPFK-AUTO or 877-573-5288 and one of our representatives will help you with your donation.
---
If you'd like to mail in a tax-deductable donation on a check, made out to "KPFK"
please use this mailing address -
KPFK – Pacifica Foundation
PO Box 748419
Los Angeles CA 90074-8419
---
---
Text 'KPFK' to 41444 on your cellphone or click the banner below

Donate securely via PayPal,
(You don't need to have a PayPal account)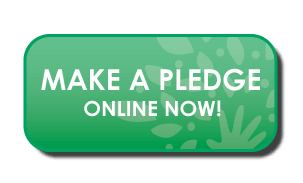 KPFK is a progressive media outlet challenging corporate media perspectives and providing a voice to voiceless communities. Help keep KPFK a strong and independent source of music, arts, news and information.
Los Angeles Area Forecast

Sunny intervals

High: 75°F | Low: 55°F